Local News & Events
Quiz Night
A Quiz Night will be held on the third Friday of every month Teams of four or less entry a pound per person and a draw will be held after the Quiz , Starts at 8.00pm Coffee & Tea Available
CarBoot Table Top
A Carboot sale will be held once a month on a Saturday Morning 10am to 1pm Cars £3.50 Vans £5.00 .
Eight will be held on Calmore Community Centre Car Park and Four as Table tops in the Centre's Hunter Hall.
In the event of bad weather and when bookings allow the Carboot will be Changed to a Table Top sale indoors
Tables @ £4 Coffee & Tea Available
Calmore and its History
Susan Lawrence has been working on Calmore and its history If you have any Photographs or information on our local history please get in touch on Tel : 023 8086 5997
Thier will be a display of Calmore and its History by Susan Lawrence at Calmore Community Centre during Calmore Show
Calmore Community Activities
Gym & MultiSport
Weight Training & Lifting, Tennis, Netball ,5 a/side Football, Basketball . Phone 023 8066 3483
Calmore Community Centre
Cub Scouts, Scouts, Beaver Scouts, Kung Fu, Patchwork, Keep Fit, Brownies, Women's Group, St John Ambulance Slimming Classes, Judo, Bingo, Playschool, After School Club, Indoor Bowls, Toddlers Group
Phone Manager Mrs Jean Trinder 023 8086 8455
Monthly Events
Quiz Night and Draw Next Date Friday 8.00pm 12th July "Forest Room"
Car Boot Sale Next date Saturday 10am to 1.00pm 13th July
Calmore Show 20th July 2002 Phone No Mr G Bunday on 023 8066 3417
Calmore Dog Show 20th July 2002 Phone Mrs Pat King 023 8086 8747
New Housing Plans Alfred McAlpine Homes Southern Barratt and Wimpey have devised a multi-million-pound plan to develop a 21-acre site off Calmore Road and Oleander Drive with 235 Homes . The scheme is set to come under fire at a town council meeting next week. But the site was allocated for housing several years ago, which may mean the district council has little choice but to allow the scheme. George Dart, chairman of the town council's planning and transport committee, said: "I've seen Totton go from an attractive village to a mini Basingstoke. Fellow councillor Di Brooks said: "Totton is already choked with traffic and hasn't got the road structure to cope with another increase in homes. Calmore councillor Fiona Downer warned that the plans at Hazel Farm would place extra strain on doctors, dentists and schools.
Plans by Linden Homes Southern to build 69 houses on the Testwood House Farm site off Greenfields Avenue. Has been approved. Hampshire County Council recently rejected a plea from residents to register the land as a village green and protect it from development. The proposed estate includes 19 acres of public open space. Totton councillor Bill Catt claimed the site was currently a "terrible mess" - and said the scheme submitted by Linden Homes would benefit the town.
Dibden Bay The Countryside Agency is masterminding a bid to turn part of the New Forest, including the Bay, into a national park. Yesterday it was revealed that pressure group Residents Against Dibden Bay Port is taking advice from the Dutch. Moves to enlarge the port at Rotterdam have been put on ice. Instead containers will simply have to be moved through the existing facilities more quickly. (Source Daily Echo)
The New Forest District Local plan The council wants your views on any changes Plans are available at Civic Centre, Totton. Totton Area 1. A Ringwood Road Salisbury Road Relief Road, 2. Rumbridge street local shopping area. 3. Drop the proposal to link brokenford lane & Rumbridge street, 4. Durley reserved for Housing in the future. New Forest District Local Plan
Solent Blue Line Bus Route Maps & Timetables
Links to Southern Daily Echo & Totton News Stories
Links to Local Headlines on Southern Daily Echo website
Use This link to Southern Daily Echo for Local Stories Totton
Help fill this Space with what you would like to see
If you have any of the following or any Information which you would like to see on the site please write or E/Mail us
1. Information-------------------------------
2. Shopping Information---------------------
3. Lists of Local Tradesmen----------------
4. Local News & History------------------
5. How you would Change Things---------
6. Favorite Web Sites---------------------
7. Local Events ---------------------------
8. Local Clubs----------------------------Phone No's,Where they are and who to contact
NHS Direct is a 24 hour telephone health helpline. Call 0845 4647 for health advice.
---
Dibden Bay Inquiry Old Stena Line Building Southampton Docks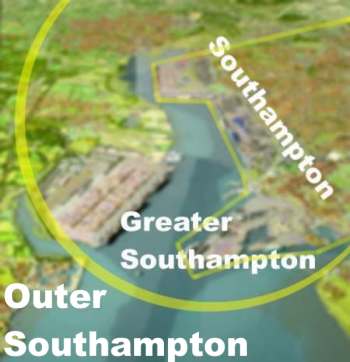 The Secretary of State for the Environment, Transport and the Regions has announced that that an inquiry will be held into the proposal by Associated British Ports for development of a deep-water container terminal at Dibden Bay, on Southampton Water. The Planning Inspectorate will be making the arrangements for the inquiry. It is in the process of setting up an Inquiry Secretariat to administer those arrangements, and is establishing a website (see Below) to provide information about the inquiry process, and the inquiry itself.
The inquiry is in effect concurrent inquiries into the following:
The Port of Southampton (Dibden Terminal) Harbour Revision Order;
The Fawley Branch Line Improvements Order;
A Stopping up Order to authorise the stopping up of two areas of highway at the Hythe Road, near Marchwood,
Planning applications (called-in by the Secretary of State) for improvements to the A326 and Terminal Access Road Junction and for noise barriers along Fawley Branch Line.
Residents against Dibden Bay Port Tel: 023 8084 9259
---
The most logical reason for transferring the Docks to Dibden Bay is the Value of its Land in Southampton once Dibden Bay is up and running. A quick change of planning use to Housing or Entertainment would be extremely profitable. And with the Transport problems in Southampton it is easier to start a fresh, How much will the land fetch when all of its property is sold after all once Dibden Bay is in full use what will be the point of Southampton ports land just laying idle better to sell up or build property.
Why should Southampton use their Grants and Money to build & update roads and rail services, when It is just as easy to spend £500,000 to have your work place moved over the water to the New Forest where the they will have to use their Money to upgrade the roads and rail services. And they will have all of the associated problems except the Profits. Which naturally will be made by The hard workers in the Southampton Offices not in the work place.
It is interesting to see the that Southampton port claims it needs to increase its size by 4.5% per year that means it will double in size every 15 years So by the year 2075 Southampton ports deep water quay will stretch from Weymouth to Bognor Regis. It is hard to envisage just what these Imports are going to be.
Southampton port is 700 years old and in reality only sees spurts of growth, which is dependant on Imports & Exports, If we use the same criteria and accept that the Figures given are true then by now even an average 2% growth over 700 years would be a massive one hundred million percent growth in size.
While most people are worried about the Road & Rail Problems and the harm to the environment it is nice to think that Southampton City Council are able to devote some time and money checking on light pollution and how it will effect their Residents
The Southampton City Council's Response To ABP's Proposals to Develop A Dibden Terminal ABP's long awaited proposals for expansion of the Port of Southampton were formally submitted on October 2nd 2000. ABP want to develop a self-contained terminal at Dibden that will operate 24 hours a day, 365 days a year. ABP's proposals for the Dibden Terminal include: 1.8 kilometers of deepwater quay, with cranes some 109 m high; Over 200 ha of operational port area, including container stacking, Roll on-Roll off facilities and an aggregates wharf; A 16-track rail marshalling yard to be connected to the Fawley Branch Line; Associated transport access works including improvements to the A326 and 'Park and Sail' facility to Southampton; The deposit of dredge material on inter-tidal land between Hythe and Cadland; The creation of a new tidal creek and nature conservation area to mitigate adverse ecological effects. The Secretary of State has called for a public inquiry into the impacts of the proposals; that inquiry is likely to begin in Autumn 2001. ABP's proposals for Dibden are a source of considerable controversy. The development will have significant direct and indirect effects upon Southampton and the wider City Region. The City Council is therefore completing a detailed examination of the impacts of the construction and operation of the Dibden Terminal. This balanced appraisal will consider the merits and disadvantages of the proposals as they affect the whole region; and the direct impacts upon the City and any mitigation measures that may be required.
Bits & Pieces from 2001 Interim Report Goto above link to get full Report
From report Disposal of non-core assets on track
£18.1 million of non-core property and land sales in the first six months of 2001
£195.3 million of non-core asset sales since 1 January 2000
From report Profit from property investment was £4.1 million (2000: £6.5 million), while profit from property development was £7.9 million (2000: £6.2 million). The expected reduction in property investment profit reflects lower rental income as a result of property sales made last year, whereas the property development result reflects strong property sales at the end of June. The Groups associates, which now include the 45 per cent shareholding in The Cardiff Bay Partnership, together with container-handling companies – Southampton Container Terminals and Tilbury Container Services – contributed £3.9 million (2000: £3.1 million).
From report Southampton As a result of new business won, container traffic increased by 10 per cent despite the effect of the general economic slowdown in the United States on global container traffic. Southampton also continues to see strong growth in its cruise business, and work on a major reconstruction of the cruise terminal for P&O Cruises is expected to begin early next year, confirming Southampton as P&O's principal UK cruise port for the next ten years. Work has already started on the construction of a multi-deck car terminal, which is being built for Wallenius Wilhelmsen Line following a ten-year agreement. The terminal will provide additional capacity to accommodate future growth and is expected to become operational by April next year.
From report Southampton Container Terminals increased throughput by 10 per cent, but suffered some weakness in ancillary income. It recently consolidated its position as one of the leading European ports for Far East traffic with the addition of two new services – CMA CGM and The New World Alliance – which have expanded their respective operations in Europe with new weekly services linking Southampton and northern China.
From report Property investment and development As anticipated, following the substantial property sales made in the second half of last year and the creation of The Cardiff Bay Partnership, property investment turnover has reduced to £5.8 million (2000: £8.0 million) and operating profit has decreased to £4.1 million (2000: £6.5 million). While property development turnover reduced to £17.3 million (2000: £21.0 million), operating profit increased to £7.9 million (2000: £6.2 million). This reflects the benefit of the sale of 24 acres of land in South Wales at the end of June for just over £10.5 million. In addition, an eight-acre site in Ipswich was sold for £3.0 million.
From report Further opportunities for growth exist at our planned deep-sea container development at Southampton, Dibden Terminal, supported by the projected substantial growth in deep-sea container traffic. The public inquiry regarding the Groups application to develop the terminal is due to commence in October this year and the Group expects to know the Governments decision in 2003. Roll-on/roll-off traffic continues to grow, and the Group is currently looking at the possibility of developing additional riverside facilities on the Humber, thereby avoiding the need for ships to lock in and out of ports, enabling quicker turnaround times and the accommodation of larger vessels.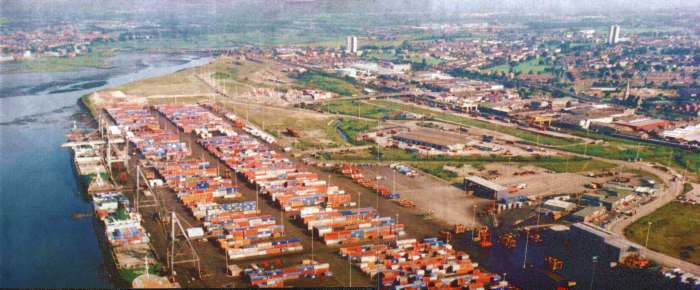 Southampton Container Port or an Asset awaiting Completion of Diben Bay?
From report The Group is also looking at the possibility of the sale of non-core land. It is the Groups intention to grow and expand the remaining Seaport division. This will be achieved in line with the previously stated strategy of rigorously-targeted investment, based on relationships with existing customers and winning new business. Disposal of non-core assets The Groups policy of selling non-operational port-located property and exploiting the potential of the property portfolio continues. The further sale of investment properties will continue to reduce the Groups income from investment property rentals. Furthermore, although development land sales will continue to produce profits, this profit stream is likely to decline in future years. Any decline in investment and development property profits should, however, be compensated for by the increased growth generated by the capital investment strategy within the Groups core ports and transport business. Since 1 January 2001, the Group has sold a further £18.1 million of non-core property assets. This brings the total of non-core assets sold since 1 January 2000, including Red Funnel Group, to just over £195 million. While further property and land disposals are planned, those assets which are essential to support the growth strategy in the main ports and transport business will be retained.
ABP and Crown Estates are looking for a developer to help develop a substantial reclamation of areas around Mayflower park. and extend it from 9 acres to 15 acres including the Parts of Town Quay and Queens Quay to include a New basin or marina type structure?. And a mixture of flats cafes and bars & restaurants to fill the extra 3 Kilometers of Waterfront created by the reclamation.But absolutely no room for a container berth Which only requires 1.8kmafter all we must remember that Southampton is a major port not a leisure area. One has to remember that Income from the flats will well exceed any lawyers fee's in obtaining permission for land from the New Forest to be used for low income container port Facilities. If one believes that Container Traffic is going to increase substantially it is far better to move all your port facilities and have some other council pay for the upgrading of Road and Rail Facilities. While indulging in a bit of land speculation .
Mr Smith said that at the moment our plans show only one basin or marina but the developers may want to include more so they could charge more for the flats .
I often wonder what Shirley Porter makes of it
---